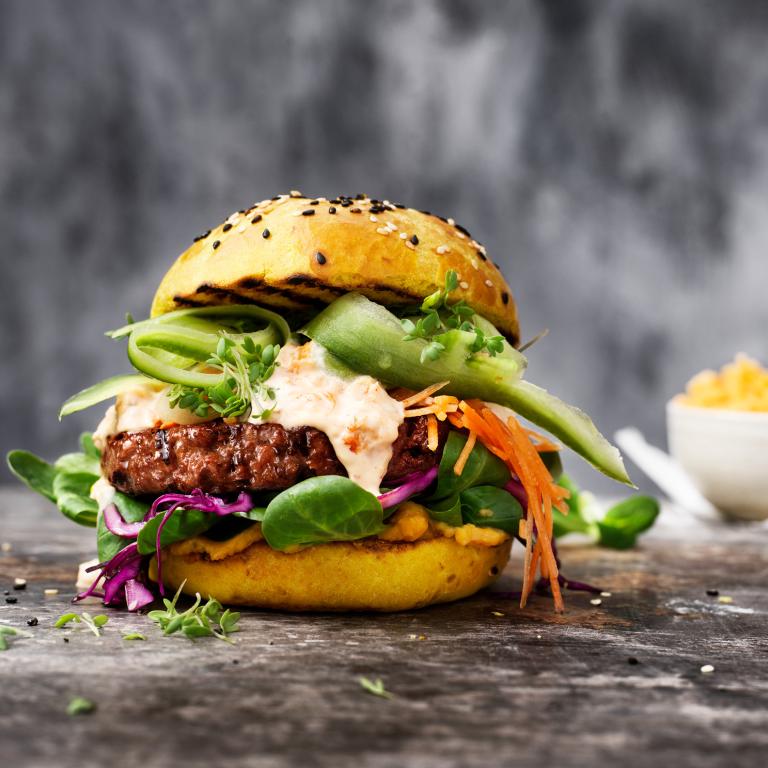 Chorizo Burger 
For a delicious, out of the ordinary burger, try this one… just 3 ingredients!

1 lb Arizona Fresh Pork or Beef Chorizo

1 ½ lbs ground beef or pork

½ cup Panko style breadcrumbs

Mix gently until well combined and form into patties. This burger can be cooked in a bit of oil in cast iron or other heavy pan, or brushed with oil and grilled. For either cooking method be sure to preheat your surface to avoid the meat sticking. Cook on each side for 6-8 minutes or until cooked through to an internal temperature of 160°F, allowing to rest before plating. Serve on a toasted bun. 
Topping options include cheese, avocado, onions, sliced tomato, fresh greens, aioli, and roasted green chiles. (or a fried egg!)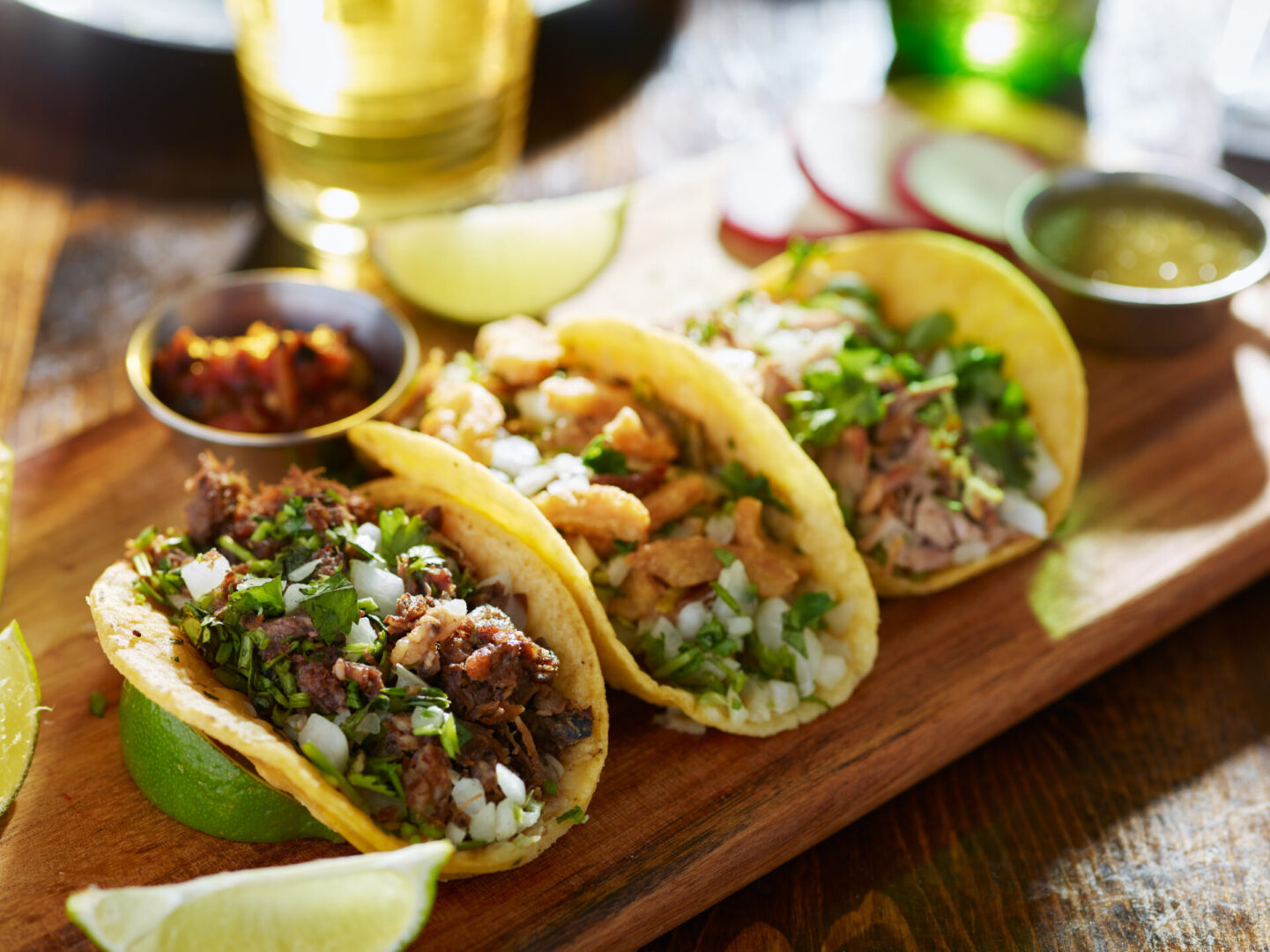 STREET TACOS 
Diced Pork Al Pastor, Pollo Asado Seasoned Diced Chicken or Carne Asada Seasoned Diced Beef (sold by the pound in Fry's service cases)
1 pound meat of your choice
24 Mini Corn Tortillas (or 12 regular Corn Tortillas)
1/2 c. fresh cilantro, chopped
1/4 c. diced fresh onion
1 ½ c. fresh cabbage, sliced (Timesaver: use pre-packaged coleslaw mix)
1 onion, diced (fresh or pickled)
fresh lime wedges
Pico de gallo or salsa
Optional toppings: Sour Cream, Avocado, grated cheese. 
Preheat a skillet, adding a small amount of oil and meat, working in batches to avoid overcrowding in the pan as you want the meat to brown and slightly caramelize for the best flavor. (Cook to an internal temperature of 160°F for pork and beef, 165°F for chicken.)
Warm the tortillas, add meat and toppings, finishing with a squeeze of lime juice. Enjoy!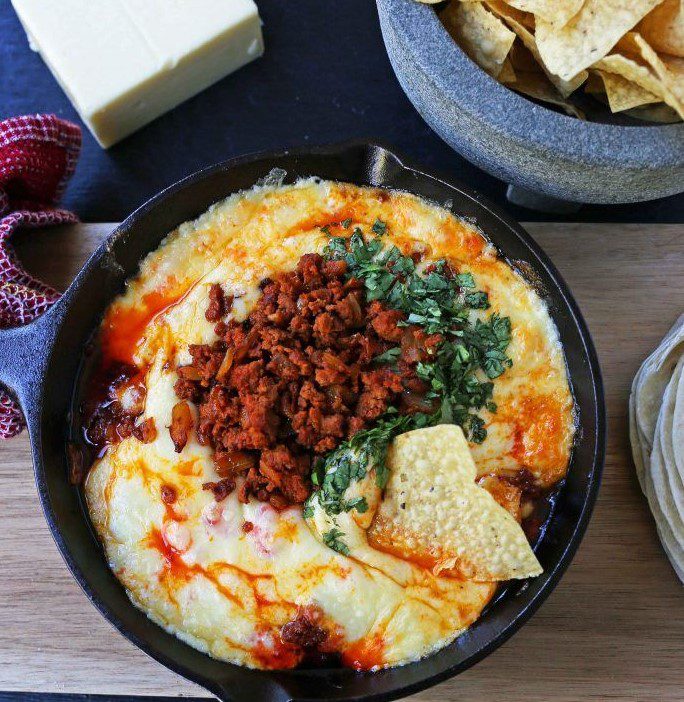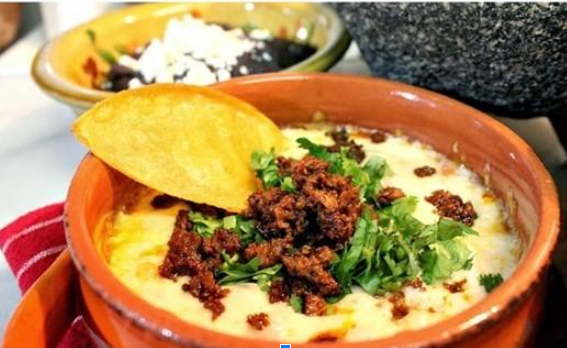 Queso Fundido ~  We like this recipe from Mely Martinez (Mexico in my Kitchen).  
1 tsp. vegetable oil 

8 ounces Arizona Fresh Pork or Beef Chorizo 

12 oz. grated Oaxaca or Monterey Jack Cheese (or pre-shredded Mexican cheese blend)

2 Green onions, thinly sliced

Roasted salsa of your choice
Preheat oven to 350°F degrees.  Place a skillet over medium heat, add the oil if using. Most Mexican chorizos have enough fat and won't need the vegetable oil.  Add the chorizo and cook, stir frequently to cook evenly and to keep it from sticking to the bottom. It'll take about 6-7 minutes to cook. 
Once cooked, remove the excess fat from the skillet or place the cooked chorizo over a paper towel to absorb the fat.
Place the cooked chorizo in a swallow ovenproof dish, setting aside 2 tablespoons to garnish when ready to serve. (Or you can divide the chorizo and cheese into individual ovenproof clay pots or ramekins.)
Sprinkle the grated cheese over the chorizo and bake for about 10-12 minutes or until the cheese is melted and bubbling. Do not overcook or it will have a chewy texture.
Remove from oven, top with reserved chorizo and sliced green onions. Serve warm with salsa, fresh flour tortillas or tortilla chips.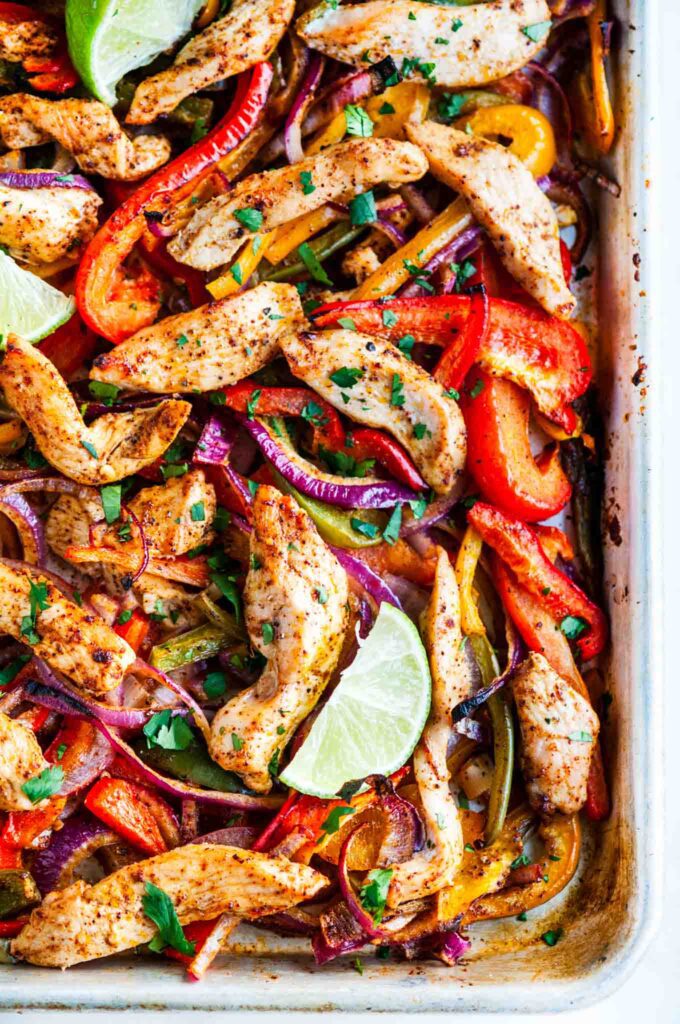 SHEET PAN FAJITAS (Chicken or Beef)
2 teaspoons chili powder
2 teaspoons ground cumin
2 teaspoons dried oregano
1 teaspoon paprika
salt and freshly ground black pepper, to taste
1 - 1 ½ pounds Denmark Foods thin-sliced boneless, skinless chicken breasts
(OR thin-sliced beef)
1 red bell pepper, cut into strips
1 yellow bell pepper, cut into strips
1 orange bell pepper, cut into strips
1 red onion, cut into slices
3 cloves garlic, minced
3 tablespoons olive oil
¼ cup chopped fresh cilantro leaves
2 tablespoons freshly squeezed lime juice
10-12 8-inch flour or corn tortillas, warmed
Preheat oven to 425 degrees F. Lightly oil a baking sheet.
In a large bowl, combine chili powder, cumin, oregano, paprika, 1 teaspoon salt and 1/2
teaspoon pepper. Add sliced chicken, bell peppers, onion and garlic, gently toss to combine.
Stir in olive oil, coating all pieces and arrange in a single layer onto the prepared baking
sheet
Place into oven and bake for 25 minutes, or until the chicken is completely cooked through
and the vegetables are crisp-tender. Stir in cilantro and lime juice.
Serve with warm flour or corn tortillas.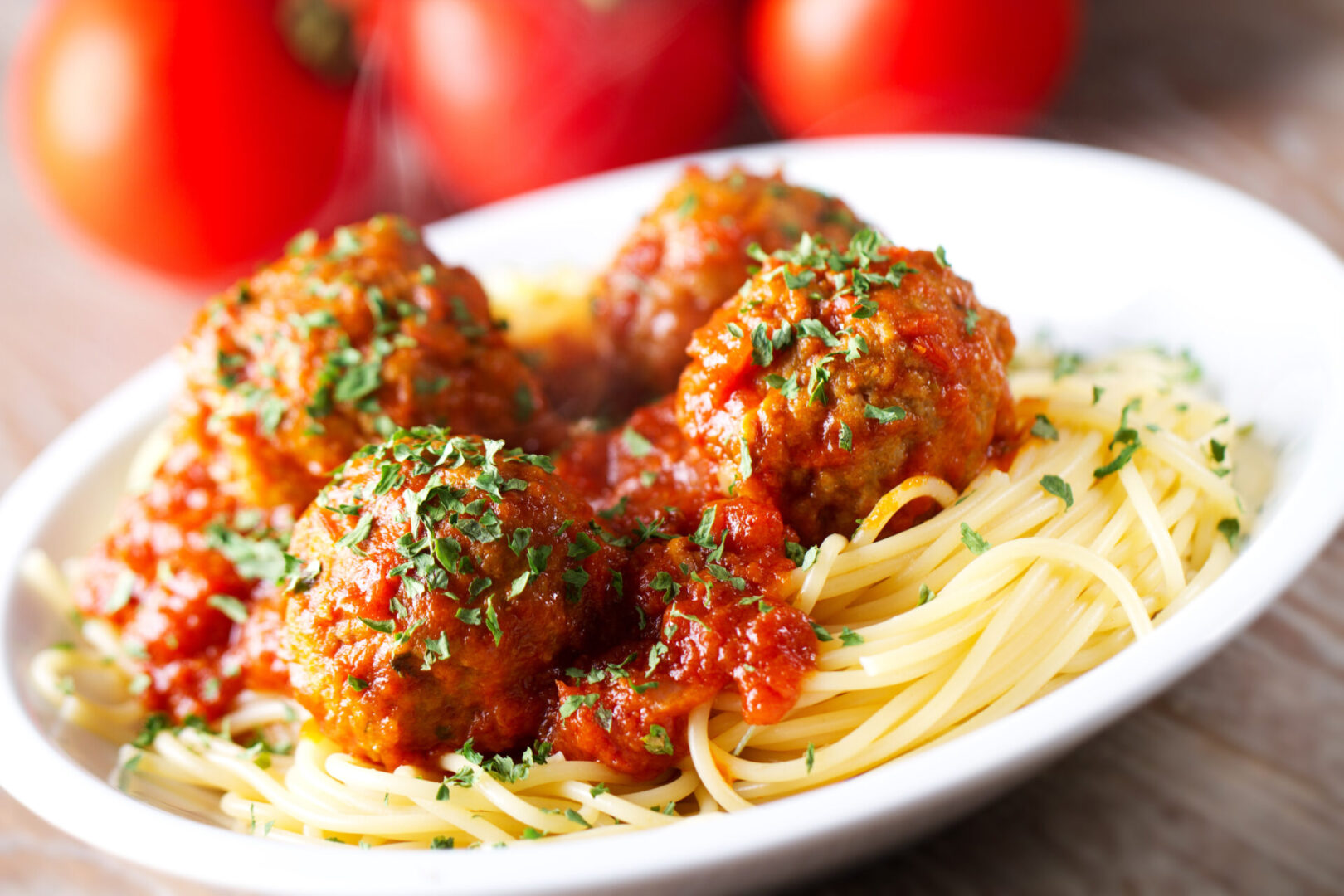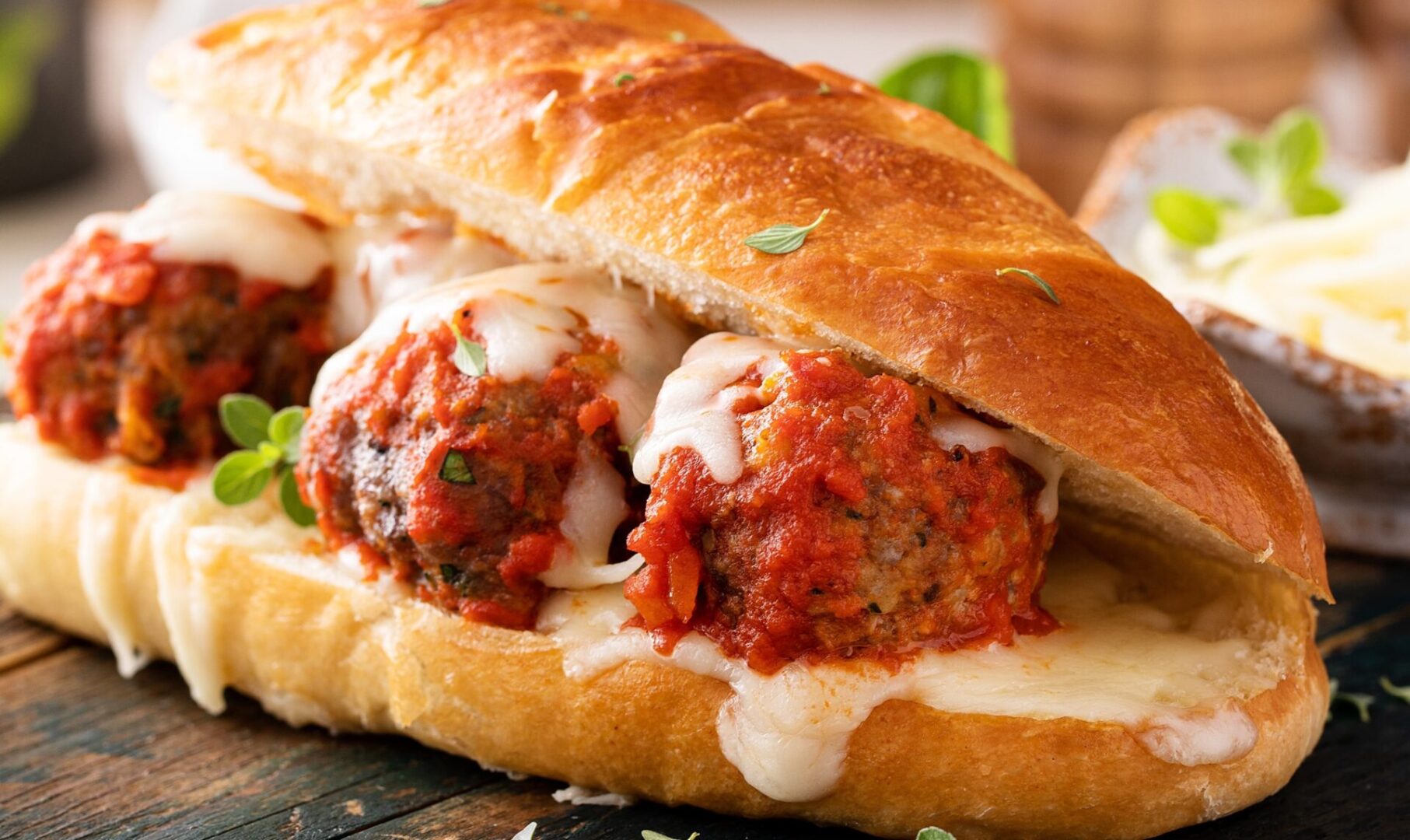 Italian Meatballs 
Our pork and chicken sausage work well for meatballs. Pre-seasoned options from Denmark Foods include Italian Sausage links (hot or sweet available in either pork or chicken. If you prefer 'strictly from scratch' try our fresh ground pork or ground chicken, sold in 1 lb packages. 
1 lb Denmark Foods~Arizona Fresh Hot or Sweet Italian links (casings removed)

¾ cup dry breadcrumbs 

1 egg

3 Tbls milk (Omit milk if using chicken)

½ onion, finely minced

¼ cup grated parmesan cheese

¼ cup fresh parsley, chopped

2 Tsp Italian Seasoning (adjust if using pre-seasoned meat) 

2 cloves garlic, minced

Salt & pepper to taste (If using seasoned meat or breadcrumbs, use less salt)
Put all ingredients together in a large bowl, and gently but thoroughly mix. Chill meat mixture for at least 30 minutes or until ready to cook.

Add a small amount of oil to a large, heated skillet, and scoop meat mixture into desired size (1" +), rolling into a ball. Working in batches, cook meatballs to a golden brown, turning frequently. (Cook to an internal temp of 160°)
Serving suggestions:
- For extra flavor and tenderness add the meatballs to a saucepan of simmering marinara sauce while preparing your pasta. 
- Serve on top of pasta, spaghetti squash or zucchini 'zoodles'.
- Fill a hoagie roll and top with marinara and cheese, bake at 400F until lightly toasted.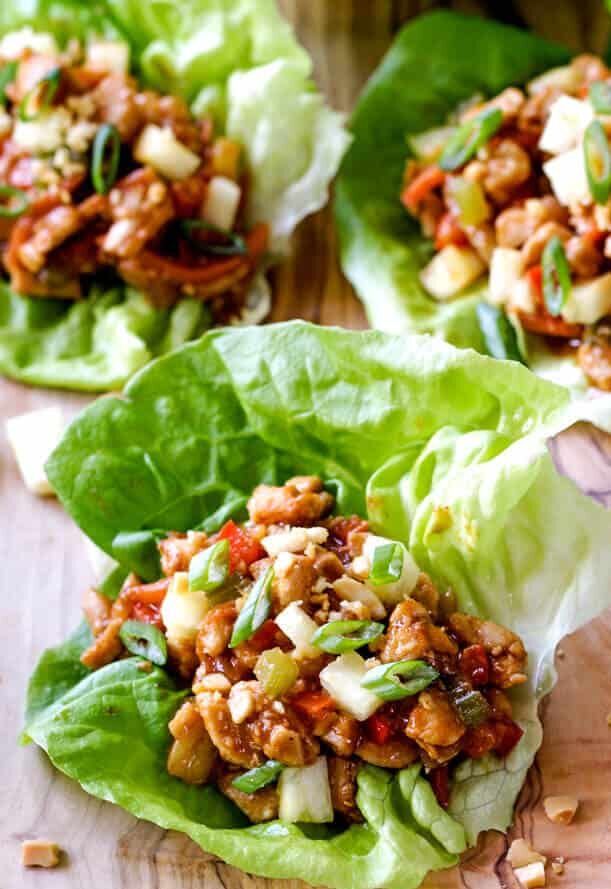 Chicken Lettuce Wraps
INGREDIENTS
1 pound Denmark Foods Arizona Fresh Premium Ground Chicken Breast 97% Lean

3 to 5 tablespoons hoisin sauce (gluten-free, if needed)

2 tablespoons soy sauce 

2 tablespoons rice vinegar

1 teaspoon toasted sesame oil

1 teaspoon cornstarch (optional)

2 teaspoons vegetable oil, divided

8 ounces white button or cremini mushrooms, finely chopped

Optional vegetables:

 diced onions, diced bell peppers, diced or grated carrots

1 (8-ounce) can of water chestnuts, drained and finely chopped

3 cloves garlic, minced

1 tablespoon peeled and minced fresh ginger

1/2 cup thinly sliced scallions divided

2 small heads of butter lettuce
INSTRUCTIONS
The sauce. 

Whisk 3 tablespoons of the hoisin sauce, soy sauce, rice vinegar, and sesame oil in a small bowl. To thicken the sauce, whisk in the cornstarch.

Cooking the Chicken.

 Add 1 teaspoon of the oil in a large frying pan over medium heat until shimmering. Add the ground chicken and cook until cooked through and no longer pink. (7 to 8 minutes) Transfer the cooked Chicken to a clean bowl and set aside.

Cooking the vegetables. 

Add 1 teaspoon of oil to the same pan. Add the mushrooms and any optional vegetables and cook. Stir until tender. (4 to 5 minutes.) Stir in the water, chestnuts, ginger, and garlic. (About 30 seconds)

Combine cooked Chicken and Vegetables.

 Place the Chicken back in the pan with the vegetables and 1/2 of the scallions.

Stir in the sauce.

 Add the sauce and cook until the sauce is warmed. (about 30 to 60 seconds)

Serve with the lettuce.

 Remove all the lettuce leaves and place them on a plate. Serve with your choice of garnishments and remaining scallions. Place the finished chicken mixture into a serving dish. Serve a heaping spoonful of chicken mixture in the middle of a lettuce leaf, top with scallions and your choice of hot sauce or chili flakes. Enjoy while hot.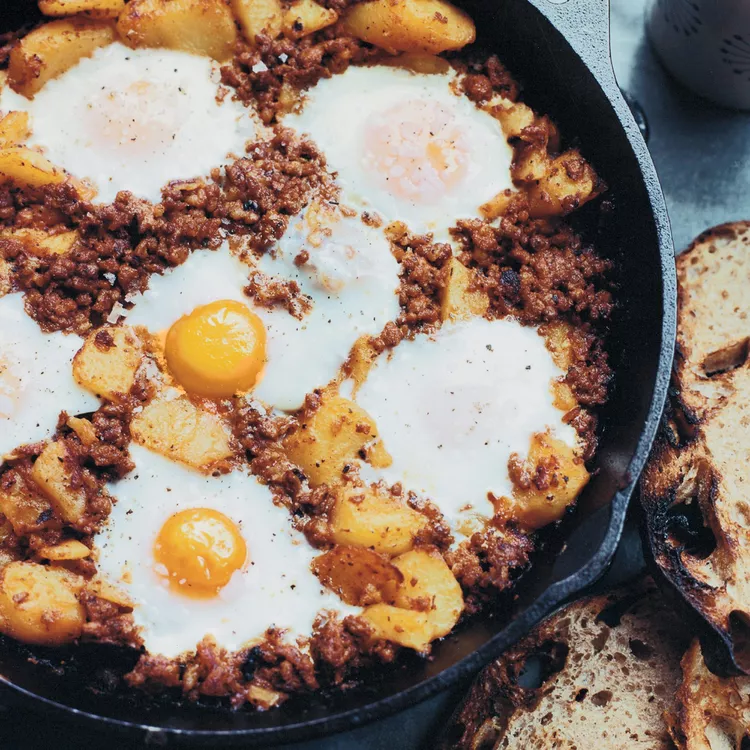 Chorizo & Eggs
1 pound medium Yukon Gold potatoes
1 pound Arizona Fresh chorizo
1 large onion, finely chopped
2 tablespoons vegetable oil
6 large eggs
Salt and freshly ground pepper
Flour or corn tortillas
Put potatoes in a saucepan, cover with water, bring to a boil, and cook at medium heat until fork tender (12-18 minutes). Drain, cool, and cut into 1" cubes.  Set aside.
Preheat the oven to 375°F.
Heat a heavy, oven-proof skillet on the stovetop (such as cast iron) and add chorizo, breaking into crumbles and cook through, about 5-8 minutes. Add onion and cook until softened, about another 5 minutes. Spoon chorizo mixture into a bowl, wipe the pan, return it to the stovetop and add the oil. Add the potatoes to the hot skillet, turning until crispy and golden brown, then add the chorizo mixture, stirring gently to combine. Using the back of a spoon, make indentations for the eggs, cracking an egg into each well. Move skillet to the oven and bake 12-15 minutes until the whites are set and the yolks are cooked to your preference. Serve with warm tortillas.
(Alternatively, you may load a crisp tortilla with the chorizo & potato mixture, and top with a fried egg.)
Serve hot with sliced avocados, crumbled cotija cheese and salsa.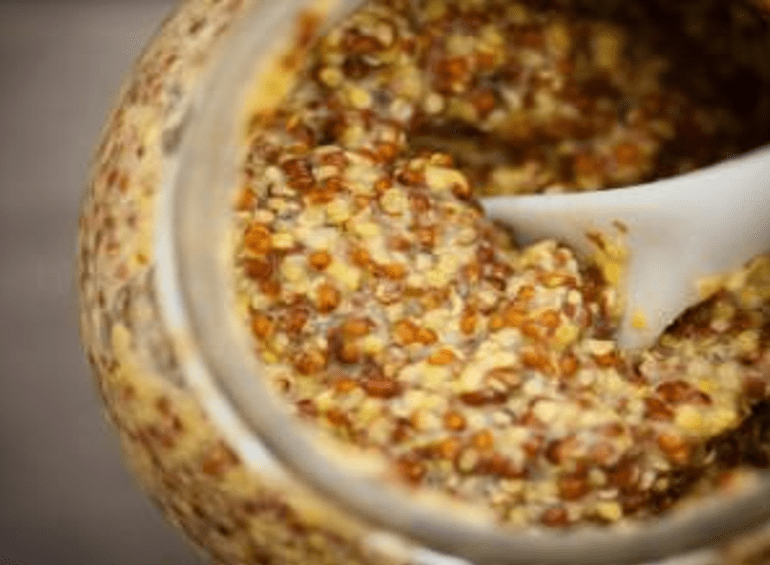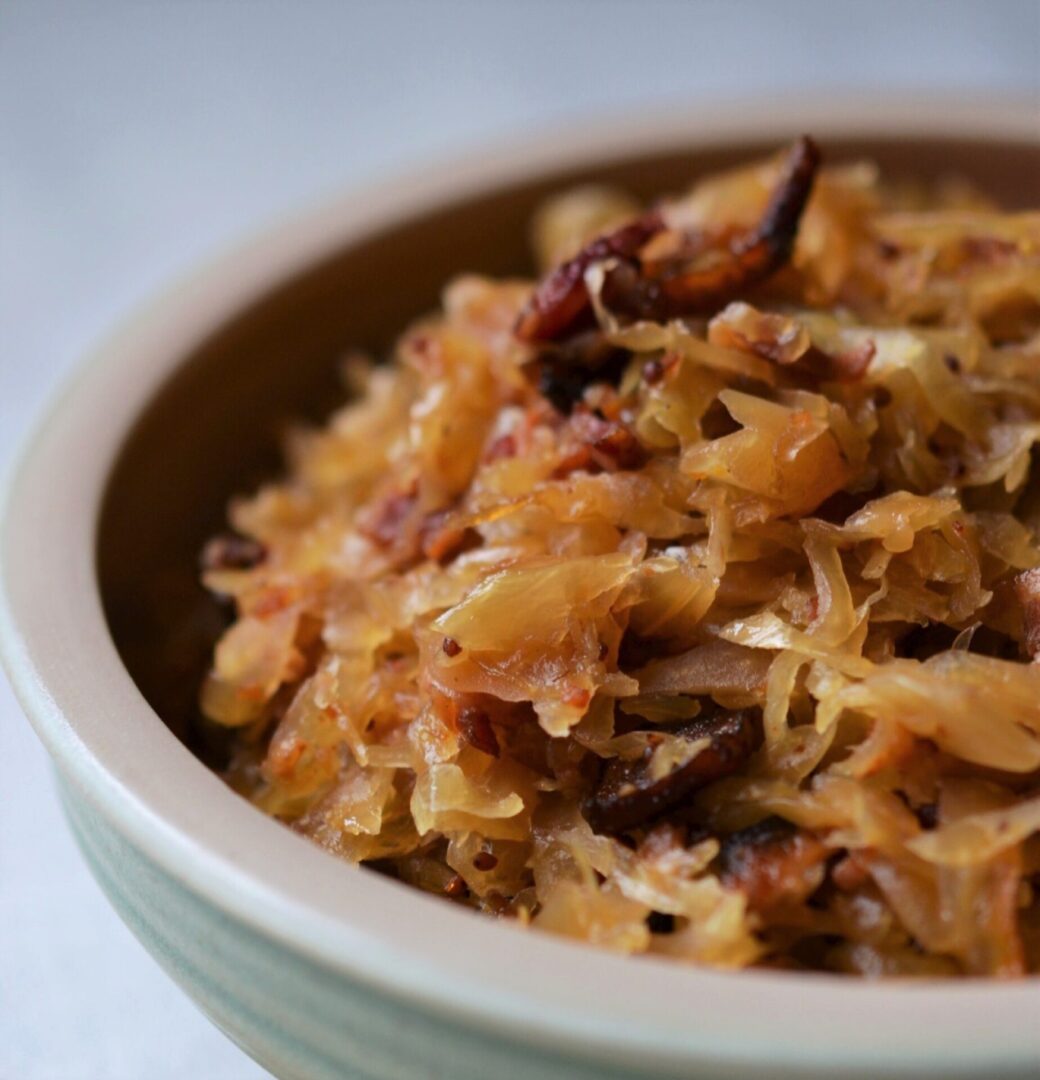 What to serve with your Beer Brats? Here are two recipes provided by Four Peaks Brewing Company
Beer Mustard
1 cup brown mustard seeds
2 bottles or cans of 12 oz. Kilt Lifter
1/2 cup Dijon mustard
1/4 cup honey 
1/4 cup brown sugar
1/2 cup apple cider vinegar 
1 teaspoon sea salt
3 egg yolks 
Combine mustard seeds and 1 can of beer then cover and let sit overnight or until seeds are soft and have absorbed the beer.
Open 2nd beer and whisk half of it together with the Dijon mustard, honey, brown sugar, vinegar, salt and egg yolks in a medium saucepan.
Over medium low heat continue whisking the mixture until it thickens. 
Once thickened remove from heat, allow to cool slightly then combine with the beer and seed mixture. 
Serve warm or cold. Refrigerate.
Beer & Bacon Sauerkraut:
1 pound Diced Bacon
27 oz Sauerkraut
12 oz Four Peaks' Kilt Lifter Scottish Ale                       
Add bacon to a large skillet and turn heat to medium-high and cook until crisp, stirring frequently. 
Strain sauerkraut and add it to the pan with the bacon. 
Stir together and continue cooking on medium high for 1 minute.
Add the beer and stir it in, then reduce the heat to low.
Simmer uncovered, stirring occasionally until the beer is reduced and mixture is thick, about 5-10 minutes. Serve warm or cold. Refrigerate.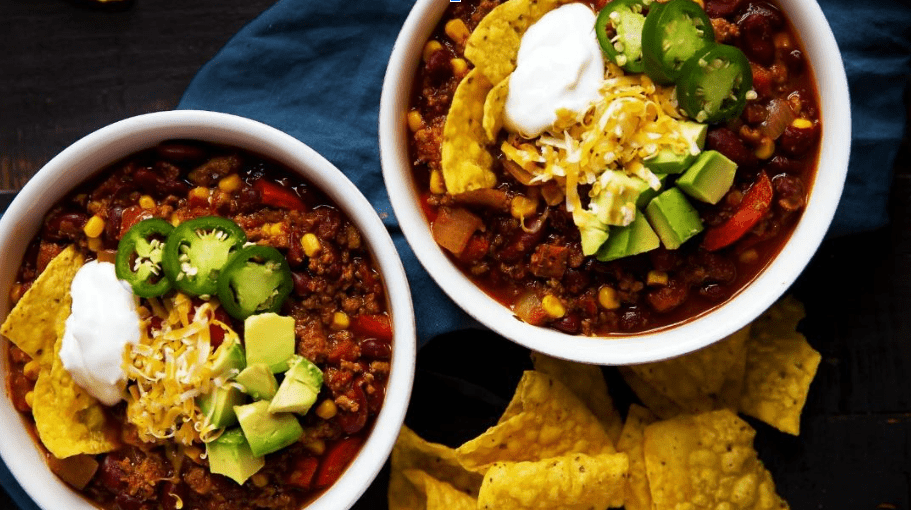 Chorizo Chili ~ An easy recipe that comes together quickly for a weeknight dinner.
1 lb. Arizona Fresh Pork or Beef Chorizo
1 small onion, finely diced
1  28-oz can crushed tomatoes
1  14-oz can Fire Roasted Diced tomatoes
1 bottle beer of choice
1 can beans (red, black or both!)
Optional toppings: Grated cheese, cilantro, sliced jalapenos, sour cream, onions.
Heat a large Dutch oven on the stovetop with a bit of oil, add diced onion and cook until soft. Add chorizo and cook through, breaking up with a spoon or spatula. 
Add tomatoes, beer and beans, simmer for 1 hour, stirring occasionally.  
Our authentic pork and beef chorizo provide all the seasoning and spices needed!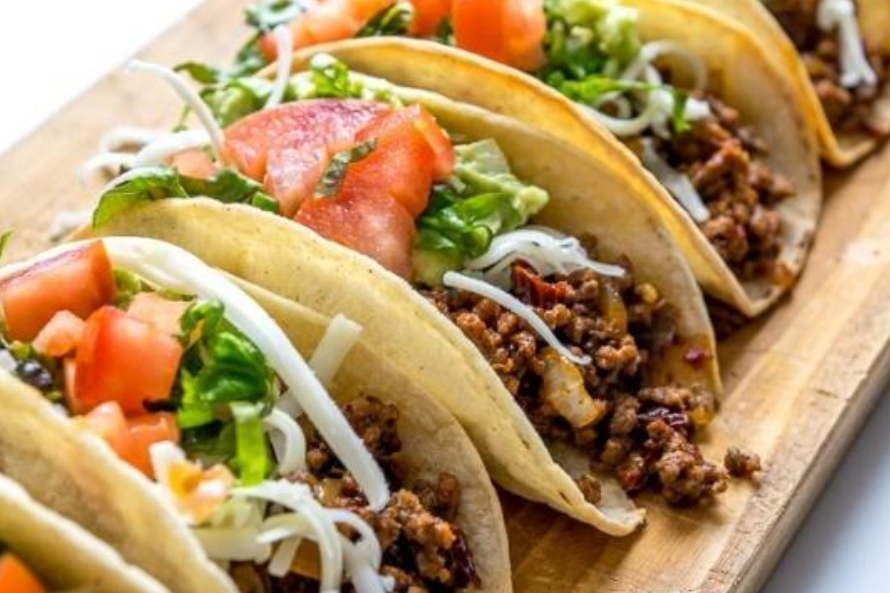 Weeknight Ground Chicken Tacos (Quick & Easy!)
1 Packet Taco Seasoning (or 2 Tablespoons other prepared Mexican Seasoning)
1 lb. Denmark Foods ground chicken
1 Tbsp. vegetable oil
Preparation:
-  Heat the olive oil in a large skillet over medium high heat.
-  Add the ground chicken and sauté for 5 minutes and break it up with a spatula. Add taco seasoning and stir to combine. Continue to cook the ground meat until it's fully cooked and no pink remains.
-  Once cooked, add 2 tablespoons of water, cover and reduce to a simmer. Let simmer for 10 minutes.
Serve as taco meat with flour or corn tortillas, shredded cheese, salsa, shredded lettuce or cabbage, sour cream, avocado, jalapenos and any other toppings you like.